Hello, dears!
In honor of it being less than three weeks until Christmas, today I'm going to show you guys a tutorial on how to make easy but beautiful Christmas-themed art. Grab some art supplies, turn on some Christmas music, and here we go! 😀
Art Prompt: Watercolor Nativity Scene
I hope this isn't cheating, but the art prompt for today is actually my own art… XD I made a series of printables like this one for my Etsy shop, and liked making them so much I wanted to show you guys how you to paint it for yourselves!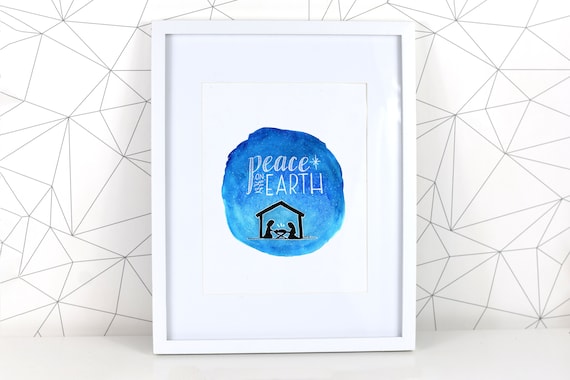 You Will Need:
Waterproof pen (like Microns) and/or a pencil
Blue, black, and white paint (I used watercolor)
White gel pen (optional)
Painting supplies (paintbrush, heavy paper, water, etc.)
1. First, let's draw the stable. I'm using a pen so it will show through the watercolor better later, but you can use a pencil if you want. This part is pretty easy – make a simple house shape, and a line beneath it for the ground.
2. Next we'll make the manger. Draw a rectangle with a thick "X" beneath it. Then draw a tiny face and half an oval for the body.
3. Start drawing Joseph. (I penciled in the whole thing and then outlined it block by block in pen so it's easier for you guys to follow along.) First, draw a tall, narrow triangle with a blunt end. If this looks weird, don't worry – we'll fill in everything with black later on, so the lines won't show.
4. Finish Joseph. Add a short line connecting to the stable wall for his legs, and a curved line almost touching the manger for knees. Draw what shows of his arm coming from about the middle of the blunt triangle. The head is the trickiest part – I always just redraw it until it looks good. XD I gave him a short headscarf thingy as well.
5. Start drawing Mary. We'll do the same thing with Mary. Draw a slightly shorter triangle than last time.
6.  Finish Mary. Add a wavy line from her neck to the ground, and legs and an arm like with Joseph. As you can see, I had to extend the manger a little bit because she was too far away to reach it. XD I also tried to make her face a little softer than Joseph's, with a more prominent forehead and less prominent chin, and then gave her a longer headscarf thingy.
7. Paint the background. The hard part is over! Now cover the top portion of your paper with blue paint. Try to make it darkest at the top and lighter towards the ground. You can use a paper towel or a clean, dry brush to lift some paint and make lighter spots for a more galaxy-like texture.
8. Add some stars. I used white gouache, but you can use other paint or a white gel pen.  Make sure the blue is mostly dry, especially if you're using a pen. If you're using paint, dilute it with a little water and tap the paintbrush handle to splatter it across the paper. While you're waiting for everything to dry, you can go ahead and paint the ground in with black.
9. Paint in the silhouettes. This part is fun. 🙂 After everything is dry, fill in your outlines with black paint, touching up  the shapes if you need to.
10. Add details with a white gel pen. This step is optional, but I think it really makes the drawing pop! I added the Star of Bethlehem above the stable, a few rays of light over baby Jesus, and then outlined all silhouettes with white gel pen.
And ta-daa! You're finished. Looks lovely, doesn't it? I love this type of art. ❤ If you made a piece of art inspired by this post, we'd love to see it! Find out how to add to our Art Lab gallery here.
What did you think of the painting? Are you excited for Christmas? (Like that's even a question… XD) Isn't splattering paint an entertaining pastime?  And do you think you'll make this piece?
Thanks so much for reading, dears, and have a lovely day!
***Allison***